Het boek
Een weekendje uitwaaien met je vrienden aan het strand. Zon, zee, koude biertjes en gekoelde rosé. Een aantrekkelijk vooruitzicht voor twee stellen die door hun jeugdvriend worden uitgenodigd in zijn luxe vakantiewoning. En ze mogen hun kinderen ook nog meenemen!
'Een lang weekend' is in 2007 verschenen bij uitgeverij Gegarandeerd Onregelmatig en beleeft inmiddels zijn derde druk. Voor mensen die zelf kleine kinderen hebben, ze nog willen krijgen of juist liever helemaal niet willen krijgen, is dit verhaal een feest der herkenning danwel afschrikking. De jonge ouders wordt geen moment rust gegund en dat heeft het nodige effect op de vriendschappelijke sfeer die ze van vroeger zijn gewend.
NBD/Biblion over Een lang weekend!: 'Een roman geschreven door jonge mensen, met als doelgroep dertigers. Rick en Katja hebben een zomerhuis op de Waddeneilanden en nodigen hun vrienden met kinderen uit om met elkaar een lang weekend door te brengen. Marcel en Elsa hebben twee zoontjes van 6 maanden en 3 jaar en Thieme en Monique hebben een meisje van 1,5 en een jongetje van 3 jaar. Wij zijn getuige van een gezellige logeerpartij, die echter niet door alle vrienden zo wordt beleefd. De verstandhouding is goed, maar de manier waarop de beide stellen met hun kinderen omgaan en hen opvoeden wijkt nogal af. Dit geeft aanleiding tot hilarische situaties die zeer herkenbaar overkomen. Rick en Katja die zonder kinderen een ander leven leiden, kunnen echter veel van hun vrienden en kinderen verdragen. Alleen komt het er niet van hun toekomstplannen te vertellen, zoals zij het zich hadden voorgesteld. Levendig verhaal, zeker ook omdat iedere persoon zelf aan het woord is. Meer info op www.eenlangweekend.nl. Normale druk.
Voor jonge mensen met of zonder kinderen een zeer geanimeerd verhaal.' (recensente van Biblion)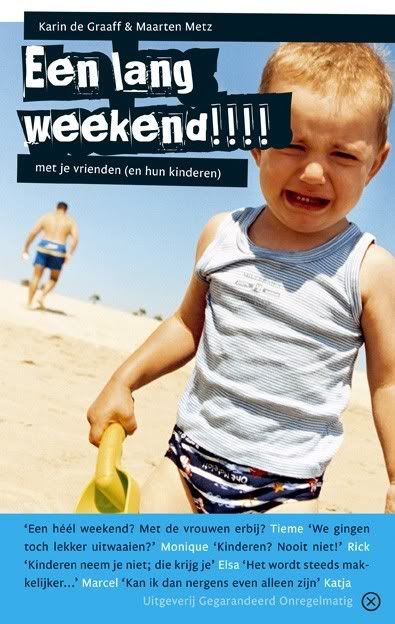 Bestellen
Het boek kost 15 euro en ligt bij je favoriete boekhandel of is daar te bestellen. Neem dan eventueel het ISBN nummer mee: 978-90-78641-04-9, maar ook zonder lukt het zeker! Verder kun je het boek op de website www.gegarandeerdonregelmatig.nl bestellen. Ook is het boek via Bol.com te bestellen.
'Een lang weekend' doet het erg leuk aan het kraambed. Het ideale boek voor op vakantie of zomaar tussendoor!
Een bij Gegarandeerd Onregelmatig besteld boek zal gesigneerd opgestuurd worden. Mocht je nog behoefte hebben aan een speciale opdracht, dan doen we dat natuurlijk graag voor je. Stuur in dat geval even wat terzake doende gegevens in een mailtje naar de uitgeverij!
En wat vindt men er dan van, van dat lange weekend? Kijk hier maar eens of hier…